Crypto investment became a hot topic after Bitcoin experienced a drastic price increase. Investors are racing to try their luck in crypto investing to make a profit. But, it is not as easy as you think about investing in crypto like magic money. In contrast to stock investment, the old players in the investment world still put this investment as a favorite 'way' to turn their money for profit. Many people are starting to compare crypto investments and stock investments.
Let's break it down about the difference between crypto and stock.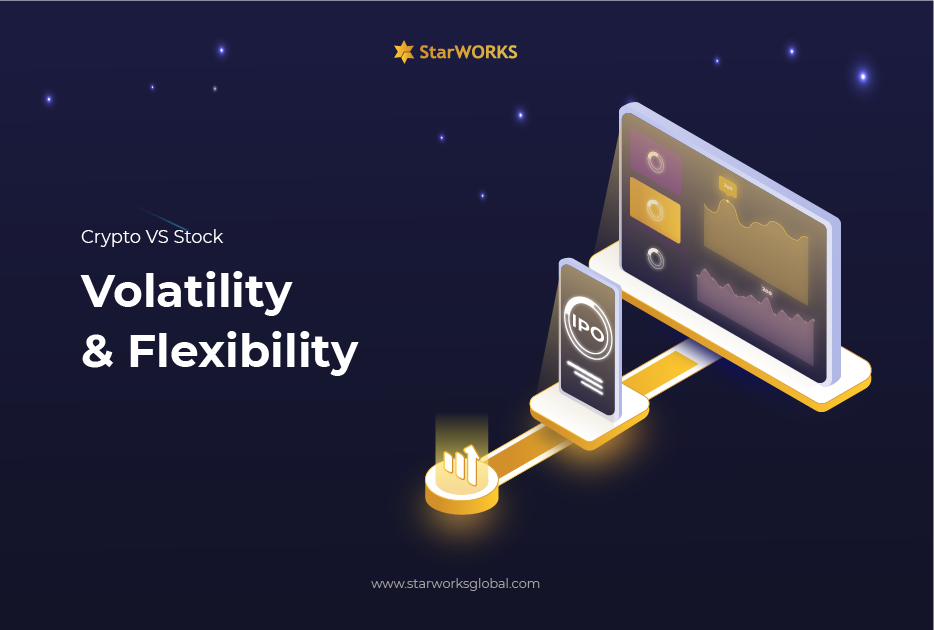 INITIAL PROCESS
Stock is one of the investment instruments in the form of ownership of the value of a company. Stocks are backed by legitimate companies that are expected to turn a profit. They involve physical assets as part of their valuation, and you can determine whether a stock is valued correctly on market price using math. Shareholders, either individually or in groups can claim ownership in a public company. While crypto is a digital asset, issues aren't always backed by companies. They are mostly valued based on the hype they have, though some also get valuation raises based on their functionality.
Crypto is designed to work as a medium of exchange that uses strong cryptography to secure financial transactions, control the process of creating additional units, and verifying asset transfers. The process of starting a stock and crypto investment looks similar. Stock investors need to create an account in securities by registering an ID card and bank account and getting 1x24 hour verification. For crypto, investors need to register on exchanges such as Bitcoin exchanges or through crypto trading platforms and verify KYC (Know Your Customer) to protect investors while preventing money laundering.
INVESTMENT PROCESS
For those of you who have been in the investment world for a long time, of course, you are no stranger to this process. The process of starting a crypto investment and investing in stocks is the same. Here's the process:
How to register as a beginner stock investor?
Stock investors need to create an account in securities through apps or the official website. Securities is a company that has obtained a business license from the OJK to carry out business activities as a Broker-Dealer, Underwriter, or other activities by the provisions of the Capital Market Supervisor. Investors cannot buy shares directly from a public company listed on the Indonesia Stock Exchange (IDX). Therefore, securities companies become intermediaries for investors and companies who want to buy and sell shares. Shares that go to the stock exchange must go through an Initial Public Offering (IPO).
The term IPO refers to a company that is first listed on the stock exchange (IDX). Companies that conduct IPOs need to go through a rigorous selection and have good potential in the future. Each securities company has different regulations, such as initial deposits, transaction fees, how to analyze stock movements, transaction models, and transparency. Sekuritas takes 4 days to 2 weeks to validate data including checking your banking data until a Customer Fund Account (RDN) is formed. This RDN acts like a wallet in a crypto exchange, to store your assets. So make sure your data is correct and clear from police records.
How to register as a beginner crypto investor?
Crypto investors need to create an account on a crypto trading platform to exchange their U.S. dollars (or other currency) for digital assets. A crypto exchange is a platform on which you can buy and sell cryptocurrency. You can use exchanges to trade one crypto for another — converting Bitcoin to Litecoin, for example — or to buy crypto using regular currency, as the U.S. Dollar. There are several things to consider before choosing an exchange, such as ease of access (regulations vary from country to country), security for exchange and storage, transaction fees, liquidity or trading volume, the volume of coins offered, educational space for investors, and taxes charged. Because crypto is under the supervision of BAPPEBTI, the exchange chosen must also be registered with it. Coins listed on an exchange need to go through an Initial Coin Offering (ICO) process, the cryptocurrency industry's equivalent to an initial public offering (IPO).
A company looking to raise money to create a new coin, app, or service launches an ICO as a way to raise funds. Because crypto price fluctuations occur due to market demand itself, coins that are already in the ICO process need to explain the details of the project as outlined in the proposal or called a whitepaper. The contents explain the project to be carried out, what is needed, what is to be achieved through the project, and most importantly a statement regarding the number of funds needed in the project. In the proposal, it is written what the maximum number of coins will be in circulation, and how much will be offered to early investors. The process of registering crypto assets also requires validation of personal data or Know Your Customer (KYC), to prevent money laundering. The approval process takes a shorter time, so you don't have to wait long to invest immediately.
Risk or Volatility
Although the increase and decrease in stock and crypto prices depend on the level of supply and demand, stocks are centralized or some institutions regulate the maximum and minimum restrictions on the increase and decrease in stock prices (Auto Rejection). The stock exchange system will reject incoming buy or sell orders automatically if the stock price has penetrated the upper or lower limits set by the Indonesia Stock Exchange. Auto rejection is implemented to ensure stock trading runs in fair conditions. In addition, stock transactions are supervised conventionally through banks.
While crypto transactions are recorded in blockchain technology transparently, like a ledger that records every transaction activity in a system that works in a decentralized, valid, and minimal error. This scheme raises the assessment that digital currency transactions are easier, safer, and more practical because there is no party acting as an intermediary such as a bank. No wonder there are no maximum and minimum limits on crypto prices.
Stock trading investors need to analyze the company's financial statements and management such as debt, product types, and company growth to minimize risk. Meanwhile, crypto investors need to look at projects that will be or are being undertaken by a company through a whitepaper. Crypto investors can also see the validity of a company issuing coins through a platform like Etherscan.io. So investors don't have to worry about the validity of the coins they want to invest in.
Flexibility
Many countries already use crypto as a legal tender. However, in Indonesia, there is no regulation regarding crypto as a means of payment for goods and services but as digital investment. Meanwhile, shares are still an investment, both in Indonesia and in other countries. Some rules apply in stock and crypto investments, one of which is a minimum purchase. In stock trading, the Indonesia Stock Exchange has set a minimum purchase of 100 shares or 1 lot. Otherwise, there's no minimum purchase for crypto investment. Every crypto has different rules for this. You can find more information about creating a buy or sell order by company website or whitepaper.
The second rule is regarding operational time. Stock trading activities also apply operating hours. Crypto trading activity has no operating hours. You can anywhere and every time!
Between stocks and cryptocurrencies, both have their own risk and analysis. Crypto and stocks can help investors grow wealth. Each option comes with its own set of risks. It's important to do your research before diving in.
Make sure you have a high tolerance for risk, a well-diversified portfolio. Doing your research and choosing your investments carefully, it becomes easier to balance risk and reward.
Before starting to invest in stocks or crypto, we need to know the regulatory agency, so the investment process becomes safer and more convincing. Stock investments are under the Capital Market and Financial Institution Supervisory Agency (BAPEPAM-LK) while crypto is under the supervision of the Commodity Futures Trading Supervisory Agency (BAPPEBTI). For stock and crypto prices, it is very influential on market sentiment, so that increases and decreases are commonplace. However, which is riskier between investing in stocks and crypto? No one! But both have their risks and flexibility!
RELATED ARTICLE